I've wanted to do this kind of post for a long time. A summary of the books I've read and am planning to read this season!
I finally found the time to watch The Martian, and absolutely loved the film. A friend then recommended I read the book as it offers more detail and insight into the character of Mark Watney, so I duly did as I was told!
The Martian really only contains one character, Mark Watney, and his interaction with other characters is hugely limited and so Andy Weir has had to develop someone compelling enough to hold an entire story on their own. Watney offers intelligence, humour and frank emotion throughout The Martian, his honesty and wit preventing the character from becoming too miserable and self pitying. There's such an intense amount of detail throughout the novel, and Weir has managed to somehow not let this become intimidating but rather transports you effortlessly to Mars alongside Watney and his fellow astronauts. I can't comment on the accuracy of his science, but it works seamlessly into the plot and becomes just as vital as Watney himself as a character.
Orange Is The New Black has been on my 'to read' list ever since I first fell in love with the inmates of Lichfield on Netflix. The book, a true account by author Piper Kerman of her life inside a women's prison, offers more grit and less of the drama that we see on screen. The most surprising part of Orange Is The New Black as a novel is that Kerman doesn't attempt to write herself, or the characters she encounters, sympathetically. There's an honesty to the women of Lichfield, but as readers we are not expected to patronisingly pity the inmates, but rather empathise with the real, human issues occurring in a fish bowl scenario of prison.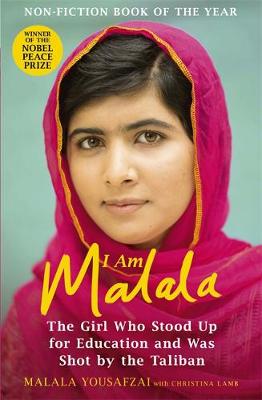 For a while I've wanted to read I Am Malala – the autobiography of the incredible Malala Yousafzai – and I grabbed a copy in my local shop and absolutely devoured it. Her story is told with the help of Christina Lamb, and there is a fluidity and sincerity to the story that I wasn't expecting. Quite clearly wise far beyond her years, Malala talks with honesty and detail about her life before and after the life changing incident that caught the attention of the world.
When it comes to easy breezy reading, I love anything by Sophie Kinsella and found myself rereading The Undomestic Goddess this season. Telling the story of a hot shot city worker who finds herself jobless and fleeing town, only to happen upon the incredibly posh and well to do folk of a small quintessentially British village. There she is met by embarrassment, new challenges and of course a VERY hunky gardener. It's the perfect read for warm evenings and a glass of something fizzy and if you enjoy this kind of comedy romance then I absolutely recommend it.
Staying with this style of easy reading romance, I'm hoping to grab a copy of Giovanna Fletcher's new novel, Always With Love as soon as I can. I'm looking forward to taking this story to the beach, or even just a sunny corner of the park to relax and soak up the summer sun and the inevitable romance. Fletcher's previous tales – Billy and Me and Dream A Little Dream have been full of romance, humour and a gentle descriptive narrative that means I now completely associate summer with another Giovanna Fletcher book!